Pin It
We all need a little music in our lives. A good song can answer a question, soothe the soul and provide an escape. It can recall a memory in the most vivid detail and evoke the most intense feelings.
"Music is the great uniter. An incredible force. Something that people who differ on everything and anything else can have in common." -Sarah Dessen
We created Tunesday Tuesday to do just that, bring people together through music.
We will designate a theme, and hope that you will share a song that embodies said theme for you. Post the video for the song, an audio clip, the lyrics- however you want to do it. Then, write a little something about why this song captures the week's theme and link up your post here with us!
Visit your hosts after 9pm (EST) on Monday nights
to find out what the theme is for the week!
Rules?
It would be awesome if you would follow your lovely hostesses (links below,) but other than that- let's have fun with this! Know a fellow music lover who should get in on the party? Let them know about it! Want to share your groove with the world? Tweet it should you feel so inclined. Want to grab a button? Go for it. It's really pretty and you'll find it down below.
Host Follow Links:


Tweet about Tunesday Tuesday & Grab one of our buttons:
Tweet
#TunesdayTuesdayHop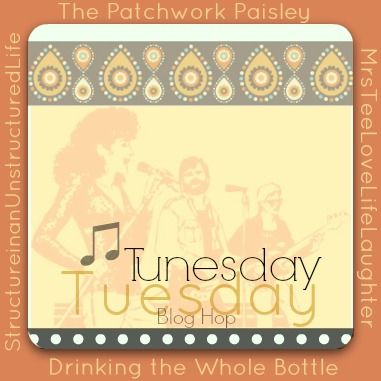 I am a product of the 80s. Born in '82 some of my earliest memories were made to the sounds of Cyndi Lauper. My first crush was Michael Jackson, and I had Rainbow Bright bed sheets. As usual, I'm not sure it's possible to choose just 1 song that I loved, especially when I am so completely and totally in love with 80s music, so I decided to only share songs that I don't just love, but that I lived. These songs are the soundtrack to my most innocent years before the teenage drama set to the moody tones of 90s alt. They seriously take me back to that time, a time that feels so much like that rainbow up there.
1- "Send Me and Angel" by Real Life
I don't know how well know this one is, or if I am the only person in the world who remembers it from the movie "RAD." Lord knows I'm one of the few who would call that movie memorable, but I will never forget my brother's BMX biking phase when he obsessively watched it and for your viewing pleasure, I've included the video from the climax moment in the movie in which "Aunt Becky" and "Cru" BMX boogie to my number one 80s jam...
)
2. "Electric Youth" by Debbie Gibson
Um, I was a young girl in the 80s. Not only did I love Debbie Gibson, I wanted to be Debbie Gibson. Or Tiffany. Complete with the baggy suit jacket and shoulder pads.
)
3.
"The Way You Make Me Feel" by Michael Jackson
I mentioned that I was in LOVE with MJ. Seriously, he was my first crush. I remember laying under the dining room table with my boom box listening to the entire "BAD" album. Anyone remember the movie Moonwalker? I was so jealous of that little orphan girl who got to spend all that time with him. All crazy aside, he's a legend and was one hell of an entertainer.
)
4.
"Like a Prayer" by Madonna
What is there to say about this song? This is late 80s, I was 7 and I vividly remember dancing around the backyard, listening to my walkman and belting out every word to this one.
)
5. "The Right Stuff" by NKOTB
Like I said before, these may not be my current fave 80s songs, but these songs are part of my fiber. Aren't I lucky to have Jordan Knight's skinny jean wearing tush dancing in my memory for eternity.
)